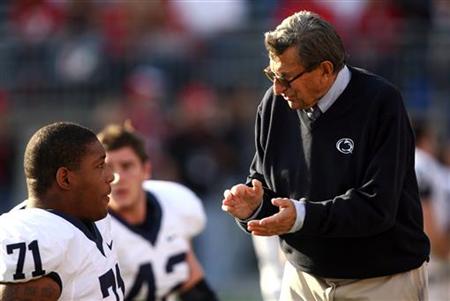 PITTSBURGH (Reuters) - Legendary Penn State football coach Joe Paterno was released on Tuesday from a hospital where he was taken to be treated for injuries suffered in an on-field collision with a player over the weekend, the university said.
The 84-year-old Paterno's right arm and hip were injured when he was blindsided by a player during a practice on Sunday, Penn State said in a statement.
Paterno was able to walk away after the incident, but he was taken to Mount Nittany Medical Center for tests, the university said.
He was released from the hospital late on Tuesday morning, Penn State said.
It said no surgery had been needed but provided no further details on his condition.
"It's time for everyone to turn the attention to the team," Paterno said in the statement. "We have a lot of hard work ahead in order to be as good as we think we can be."
The university said Paterno had worked on Tuesday's practice plans and was planning to attend a practice on Wednesday.
With 401 victories, Paterno has won more games than any other coach in college football history. He is scheduled to begin his 46th season as coach of the Nittany Lions on September 3, when the team is slated to play Indiana State.
(Reporting by Daniel Lovering; Editing by Ellen Wulfhorst and Jerry Norton)