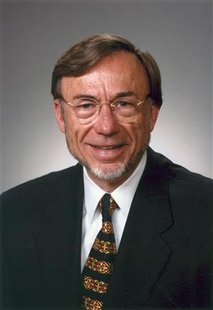 DENVER (Reuters) - Texas billionaire and Republican campaign donor Charles Wyly, who was facing a lawsuit by federal securities regulators, was killed in a car crash near Aspen, Colorado, over the weekend, police said on Monday.
Wyly, 77, died at an Aspen-area hospital after his Porsche was struck by another vehicle as he was turning left off a state highway, Colorado State Trooper Nate Reid told Reuters.
"It looks like he didn't yield," Reid said.
Wyly was a co-founder of Michaels, a chain of arts-and-crafts stores that was sold in 2006, according to his personal website. Wyly owned a home outside Aspen.
The Texas businessman and his family were also prominent in Republican campaign circles, donating millions to state and federal parties and candidates over the years, including substantial amounts to Texas Governor Rick Perry, who is considering a run for president.
"The news of Mr. Wyly's passing saddened us all," said Chris Turner, a Republican strategist and partner at Murphy Turner Associates, a Texas consulting firm.
"It's a terrible loss. He and his family have been financing freedom for years. The conservative movement will miss him."
In Texas, the Wyly family contributed about $1.5 million to Republican candidates between 2000 and 2011 -- including more than $600,000 to Perry's campaigns, according to the Texas Ethics Commission.
Charles Wyly personally donated more than $160,000 to Perry and his family collectively gave the state's top Republican some $440,000 during those years, according to ethics reports.
According to the Center for Responsive Politics, a nonprofit Washington-based watchdog group, Wyly "bankrolled a host of Republican candidates, as well as national and state party committees."
Wyly and his brother Samuel have contributed some $2.5 million to Republican candidates and committees during the past two decades, according the organization.
Following a six-year probe, the SEC last July accused the brothers of creating a sham web of offshore trusts in the Isle of Man and Cayman Islands to conceal 13 years of stock sales in four companies they founded or where they served as directors.
The regulator said the Wylys hid the sales to eliminate the risk that disclosure would send a bearish signal to the market and cause share prices to fall while they were selling. In March, the brothers lost a bid to have the lawsuit dismissed.
(Reporting by Keith Coffman; additional reporting by Karen Brooks in Austin and Edwin Chan in Los Angeles; Editing by Dan Whitcomb, Greg McCune and Cynthia Johnston)