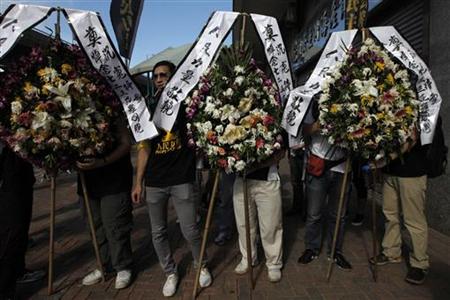 BEIJING (Reuters) - China's media are curbing combative reporting of a high-speed train disaster after what observers said were orders from the ruling Communist Party's propaganda arm to stop criticism that has echoed public outrage over the tragedy.
For a week, many Chinese newspapers defied censorship orders and pursued unusually aggressive reporting of the crash on July 23 that killed at least 40 people on two high-speed trains -- a technology the government has promoted as a shiny symbol of the nation's growing technological prowess.
But censors have stepped up demands for news media to wind down often withering criticism over the train disaster near Wenzhou in eastern China, according to the China Media Project at the University of Hong Kong.
"A notice demanded that Chinese media immediately cool down their reporting and commentary on the July 23 Wenzhou train crash, and scores of Chinese media had to move frantically to fill the gaps as planned reports on the crash were suddenly off limits," Qian Gang and David Bandurski of the Media Project wrote in a comment about the fresh censorship push that they said began Friday.
China's press coverage of the train accident appears likely to follow an arc seen after other recent sensitive disasters, with state-controlled media first bucking and then bowing to censors whose priority is protecting the ruling Party's image.
Chinese newspapers and magazines are all ultimately controlled by different arms of the state, but they also compete for stories, readers and revenue in a fiercely commercial environment, encouraging more adventurous editors to skirt around, even sometimes defy, censorship.
Monday, several popular newspapers at the forefront of reporting the train disaster had shifted to more upbeat news, including a Chinese world record at the world swimming championships in Shanghai.
Qian and Bandurski of the China Media Project showed several Chinese newspaper columns and commentaries that were quashed and never appeared after the censors stepped in (http://cmp.hku.hk).
"The only path to re-establishing public confidence is thoroughly investigating the truth," was the title of one quashed editorial in China Business View.
Messages on Sina.com's Weibo site, China's most popular version of Twitter, posted messages lamenting what users said was stepped up censorship of comments.
China blocks Twitter. But Weibo and other homegrown micro-blogging sites have served as lively arenas for public outrage over the train accident.
Many used the Internet to lambaste what they have called government efforts to cover up culpability for putting expanding high-speed train lines ahead of public safety and then covering up embarrassing aspects of the disaster.
Officials have blamed faulty signal technology for the crash.
"It's entirely understandable that Sina's Weibo is removing and blocking messages, because that's the only way it can ensure there's a platform for Internet expression," wrote one user, Cao Jingxing.
(Reporting by Chris Buckley; Editing by Ken Wills and Jonathan Thatcher)