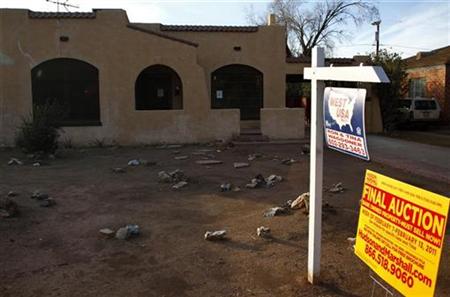 CHICAGO (Reuters) - Funds for refinancing home mortgages were much more available in predominantly white sections of major U.S. cities than in minority areas after the recent housing crash, a study showed on Thursday.
The study's authors called for more investment by lenders in poor communities and for improved disclosure requirements for mortgage lenders to protect unwary borrowers.
"Paying More for the American Dream V," found that in the seven metropolitan areas included in the study -- Boston, Charlotte, Chicago, Cleveland, Los Angeles, New York City and Rochester, New York -- conventional mortgage refinancing in minority communities decreased by an average of 17 percent in 2009 compared with the previous year.
But in predominantly white neighborhoods, mortgage refinancing loans jumped by an average of 129 percent.
This is the fifth in a series of reports that began in 2007, compiled by a coalition of nonprofit groups across the country, including the California Reinvestment, the Woodstock Institute in Chicago and the Ohio Fair Lending Coalition.
The study also found lenders "were more than twice as likely" to deny refinancing applications by borrowers in minority communities than in majority white neighborhoods.
Previous reports by the coalition showed that during the recent property boom minority borrowers were more likely to obtain high-risk subprime loans than white Americans, even if their credit was good.
"These findings build on our past reports, which have documented ongoing racial disparities in mortgage lending," Adam Rust, Director of Research at the Community Reinvestment Association of North Carolina, said in a statement. "Lenders are loosening up credit in predominantly white neighborhoods, while continuing to deprive communities of color of vital refinancing needed to aid in their economic recovery."
Subprime loans -- offered to borrowers with poor credit -- and risky products like "stated income," or "liar loans" where banks did not check borrower's income, exploded during the housing boom. Irresponsible lending contributed to a housing market crash in 2007 that triggered America's worst downturn since the Great Depression.
The crash also resulted in an unpopular bailout program for the U.S. banking sector that continues to have political repercussions.
A separate study published in the American Sociological Review in October found that predatory lending aimed at predominantly minority neighborhoods led to mass foreclosures and directly contributed to the crash.
(Editing by Doina Chiacu)