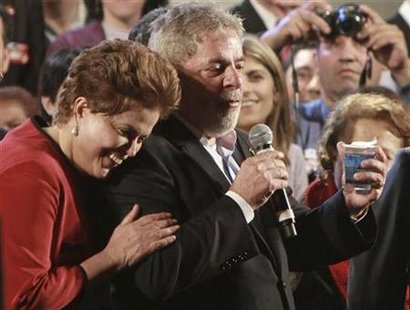 By Stuart Grudgings
BRASILIA (Reuters) - Brazil's ruling party presidential candidate Dilma Rousseff may be forced into a runoff after her lead slipped in the wake of an ethics scandal involving a former aide, an opinion poll showed on Tuesday.
The survey by pollster Datafolha showed Rousseff's voter support fell to 46 percent from 49 percent a week ago, leaving her with 51 percent of valid votes after blank and spoiled ballots are thrown out -- just above the threshold she needs to win the election in the first round on October 3.
The main opposition candidate, Jose Serra of the centrist PSDB party, did not benefit directly from the defections from the Rousseff camp, though he would go to a second round on October 31 if she fails to win a majority of votes on Sunday. Serra's voter support held steady from last week at 28 percent, the poll showed.
Instead, the shift in allegiances bolstered Green Party candidate Marina Silva, a former environment minister who stands little chance of surviving the first round. Her support climbed to 16 percent from 14 percent, Datafolha said.
Rousseff, President Luiz Inacio Lula da Silva's former chief of staff, has ridden Lula's immense popularity and an economic boom in Latin America's largest economy to a hefty lead in all opinion polls.
Tuesday's poll was the first in more than a month to show a real chance that the election could go to a second round, which Rousseff is expected to easily win. The Datafolha poll showed her with 52 percent of the votes in a runoff versus 39 percent for Serra.
Corruption allegations against the government, which forced the resignation of Lula's current chief of staff two weeks ago, are turning middle-class voters away from Rousseff, said Alessandro Janoni, head of polling at Datafolha.
"The Datafolha survey shows that these cases especially affected parts of the middle-class," he wrote in Folha de Sao Paulo newspaper, which published the survey.
The resignation of chief of staff Erenice Guerra, a former aide to Rousseff, over allegations she was involved in a kickback scheme for public projects followed another ethics scandal over alleged illegal accessing of bank records by Workers' Party members.
Both cases have received intense media coverage, giving the Serra camp some hope to force a runoff.
Rousseff, a former leftist militant, can count on huge support in poorer northern areas of Brazil where millions have benefited from social welfare programs under Lula. She has also made inroads into wealthier southern regions where the centrist opposition is traditionally stronger.
Securing victory in the first round would boost Rousseff's mandate and top her mentor Lula, whose two election wins came in the second round.
Datafolha polled 3,180 people on Monday in 202 cities. The poll had a margin of error of 2 percentage points.
(Editing by Todd Benson and Stacey Joyce)