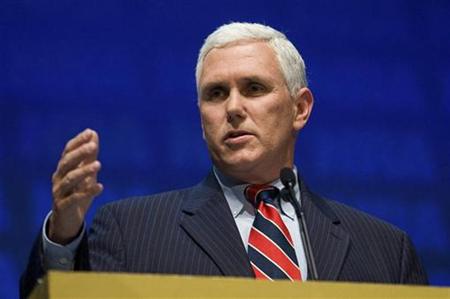 WASHINGTON (Reuters) - Conservative voters chose the No. 3 Republican in the House of Representatives, Mike Pence, as their top choice for president for 2012 in a straw poll on Saturday.
The nonbinding opinion vote among 723 social conservatives attending what organizers called the "Values Voters Summit" put former Arkansas Governor Mike Huckabee in second place for the Republican presidential nomination in 2012, with 22 percent of the vote, compared with Pence's 24 percent.
Former Alaska Governor Sarah Palin placed fifth, with 7 percent of the vote. Former Massachusetts Governor Mitt Romney placed third, with 13 percent and former House Speaker Newt Gingrich placed fourth, with 10 percent.
Pence, a conservative from Indiana who has championed anti-abortion legislation, also was the straw poll's top pick for vice president. So the convention's organizer, the Family Research Council, declared Palin the vice presidential winner, as she garnered the second highest number of votes for that position.
"What a dream ticket -- Mike Pence and Sarah Palin. That would give the liberals heartburn," said Tony Perkins, the Family Research Council's president.
The top concerns cited by the straw poll voters in making their choices were their opposition to abortion, opposition to high government spending, desire to repeal President Barack Obama's healthcare programs and desire to protect religious liberty and national security concerns, Perkins said.
About 2,000 people attended the convention in Washington.
Speakers included Christine O'Donnell, who won the Republican nomination for senate in Delaware on Tuesday with backing from the "Tea Party" movement.
(Reporting by David Lawder; editing by Chris Wilson)