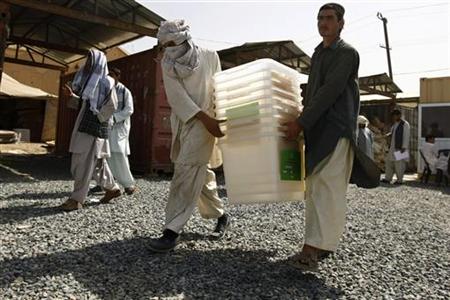 By Tim Gaynor
KABUL (Reuters) - Security preparations were ramped up on Friday on the eve of Afghan parliamentary elections after the Taliban vowed to disrupt the vote, a key test after a deeply flawed presidential ballot last year.
The streets of the Afghan capital were largely quiet and there were no reports of serious security breaches in Afghanistan's other 33 provinces by mid-morning.
Checkpoints have sprung up across the city over the past 24 hours, with drivers being stopped and searched as security forces guard against attacks.
"I'm happy and ready to take part in tomorrow's election, to choose our own future," said Abdul Qahir, a 31-year-old construction company owner, after being searched at a checkpoint.
"It's important to vote. We need to elect good people, not warlords," he told Reuters.
Almost 300,000 Afghan soldiers and police will guard the poll, backed up by almost 150,000 foreign troops. On Thursday, the hardline Islamist Taliban renewed its threat to attack foreign and Afghan targets and urged voters to stay at home.
Significant security failures would be a major setback, with Washington watching closely before U.S. President Barack Obama conducts a war strategy review in December which will likely examine the pace and scale of U.S. troop withdrawals.
U.S. Defense Secretary Robert Gates said in Washington overnight the current strategy appeared to be working but cautioned it would take months of sustained progress before it could be declared a success.
Of greatest concern is that attacks or the Taliban threat of violence will lead to a low voter turnout as it did last year.
The Taliban staged dozens of attacks on last year's election but failed to disrupt the process entirely, although voter turnout was very low in the south and east where Pashtuns, Afghanistan's main ethnic group, dominate and where the Taliban has its strongest support.
The United Nations' top diplomat in Afghanistan, Staffan de Mistura, has said a turnout of between 5 million and 7 million would be considered a success given the difficulty of staging the poll in the middle of a conflict.
There are about 11.4 million registered voters, according to the Independent Election Commission (IEC), well down from last year's estimates of 17.5 million.
CREDIBILITY
The election is also a test of credibility for Afghan President Hamid Karzai after last year's election, which Karzai won despite a third of his votes being thrown out as fakes.
Since being re-elected, Karzai has promised to root out the endemic corruption that has been a source of great friction with his Western allies.
Washington believes widespread graft weakens the central government and its ability to build up institutions like the Afghan security forces, which in turn determines when Western troops in Afghanistan will be able to leave.
The West has been seeking to temper expectations of the poll. De Mistura said this week the election would not be perfect but it would be an improvement on the "massive fraud" of last year.
Afghanistan's U.N.-backed Electoral Complaints Commission (ECC) has warned of a "disputatious" process, with thousands of complaints expected from among the almost 2,500 candidates who fail to win one of the 249 seats in the wolesi jirga, or lower house of parliament.
The ECC and independent observer groups have warned that thousands of fake voter registration cards have been found across Afghanistan, although the Independent Election Commission has said measures are in place to ensure such fakes can't be used.
The experience of last year's election and the possibility of more widespread fraud have left an underlying cynicism among many voters who feel the system benefits only the political elite and powerful warlords.
"Democracy, what's that?" said Darya Khan, a 40-year-old driver who spoke near a mosque in central Kabul.
"I'm not going to vote, the people who get elected are just in it for themselves. They are not working to benefit the country, they are not thinking about the poor."
(Additional reporting by Sayed Salahuddin; Writing by Paul Tait; Editing by Sugita Katyal)