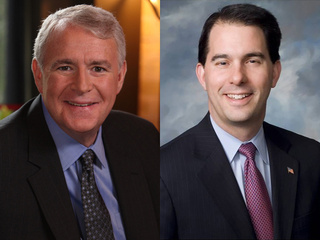 MADISON, Wis. (WTAQ) - Democratic gubernatorial candidate Tom Barrett tells a Madison rally Republicans believe the election is already over.
But the state GOP says it's not taking anything for granted. Barrett told a gathering of supporters at an early voting rally outside the state capitol that Republicans were already measuring the drapes and ordering the stationary for the governor's office.
Public polls have shown Barrett trailing Republican Scott Walker, but Barrett challenged those findings, and says the race is tighter than people realize.
But State Republican Party Director Mark Jefferson says the GOP isn't taking anything for granted, but added that the current polls are making volunteers enthusiastic, "in the sense that they know that their efforts can pay off." Jefferson says Republicans are trying to drive home the message that there are close races up and down the ballot.
Both parties are stressing turnout efforts with less than 2 weeks before the election. The state's election agency estimates half of all eligible voters will head to the polls. That would be about the same as 2006, when voters were choosing a governor and U.S. Senator and voting on Wisconsin's marriage amendment.