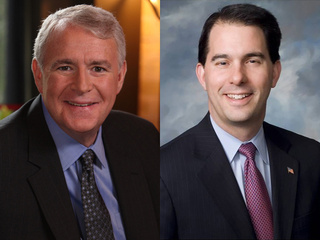 MILWAUKEE, Wis. (WTAQ) - Wisconsin TV viewers keep hearing about Milwaukee's warts, as the community's top two officials keep battling each other in the governor's race.
Republican Scott Walker started running a statewide ad Wednesday, in which a city firefighter and police officer attack Democrat Tom Barrett for not fixing problems with the new police radio system.
Officers have complained of dead spots in the "Open Sky" system, which went online later than expected. And the whole system was briefly shut down a couple weeks ago, after its vendor was checking something but didn't tell anyone.
Walker, the Milwaukee County executive, is endorsed for governor by the Milwaukee police and firefighters' associations, and the State Troopers Association.
Barrett, who's Milwaukee's mayor, is endorsed by the statewide police and fire groups.