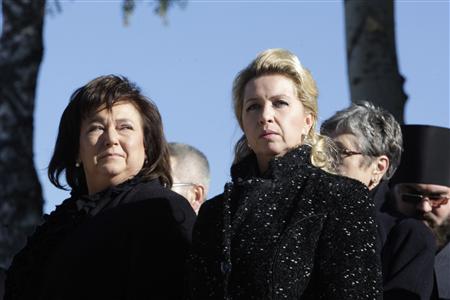 SMOLENSK, Russia (Reuters) - The first ladies of Poland and Russia said the plane crash that killed the Polish president and 95 others in April brought the nations closer together, during a ceremony Sunday at the accident site.
The presidential wives joined 170 relatives of the victims to place flowers and candles and attend a religious service at Smolensk airport in western Russia, where six months ago the presidential Tupolev Tu-154M crashed in fog.
"The entire Russian nation was deeply moved by that terrible tragedy," Russian first lady Svetlana Medvedeva said.
"The history of our countries has always been closely linked and despite its complicated pages, the two nations always found the road to mutual respect and share the same love of fellow man, country and peace."
Later, the first ladies, family members and others travelled to Katyn Forest for the second stage of the commemoration.
Late President Lech Kaczynski, his wife and many political and military leaders were killed on their way to a ceremony in Katyn to mark the anniversary of the killing of 22,000 Poles by the Soviet NKVD secret police in 1940.
The outpouring of grief from Russian leaders in the aftermath helped thaw relations between the Slavic neighbors.
Sunday's ceremony was broadcast live in Poland and Russia.
Anna Komorowska, wife of President Bronislaw Komorowski who succeeded Kaczynski, said she hoped the visit would help the families complete "the unfinished mission of their loved ones."
Poland's rightist opposition, led by Kaczynski's twin brother Jaroslaw, has criticized the government of Donald Tusk for not playing a more active role in Moscow's investigation, and a recent poll showed 62 percent of Poles disapprove of the way Moscow has dealt with the crash inquiry.
(Reporting by Rob Strybel and Chris Borowski in Warsaw and Nikolai Isayev in Smolensk; Editing by Janet Lawrence)