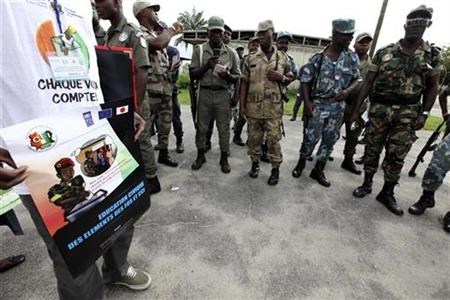 By Ange Aboa and Tim Cocks
ABIDJAN (Reuters) - Ivory Coast's military and rebels will deploy 4,000 extra troops to rebel territory under a joint command to try to secure a run-off presidential election on November 28 that could easily turn violent.
The troops would be additional to the 8,000 former rebel troops and government military police jointly deployed throughout the country for the first round, Colonel Rene Sako, army operations chief, told Reuters in an interview Friday, and a rebel spokeswoman confirmed the plan.
The first round passed off peacefully, putting President Laurent Gbagbo just in the lead with 38 percent of the vote, meaning he will face opposition challenger Alassane Ouattara, who got 32 percent, in the run-off.
But with the next round being "winner takes all," many fear violence could erupt between supporters of the two longstanding foes if the result of a close second round is disputed. The world's top cocoa grower has a history of electoral trouble.
Youth supporters of Gbagbo's and Ouattara's coalitions clashed in the main commercial city of Abidjan Friday evening.
A Reuters witness saw several hundred youths armed with sticks and clubs face off one against another before police dispersed them with teargas.
"At least 10 students were wounded and a policeman was hurt," said a police captain who could not be named.
The poll is meant to reunite Ivory Coast for the first time since a 2002-3 war left half of it in rebel hands, ending years of military and political stalemate in what was once the country with West Africa's brightest economic prospects.
"NOT READY"
"We are going to deploy 2,000 (government) soldiers in the CNO (rebel-held central, north and western) zones," Sako said.
Bamba Affoussi, spokeswoman for the New Forces (FN) rebels, said the move had been made in agreement with them and they would also increase their presence by 2,000. The total active force would go up to 12,000, from 8,000 previously, with a joint reserve force of 2,600 troops, as before.
"This is not going to pose any problem," she said.
Some 9,500 U.N. soldiers and police are also deployed throughout Ivory Coast to help keep order.
But a heavy deployment of government soldiers into rebel territory still has the potential to raise tensions, especially since the rebels are sympathetic to Gbagbo's rival -- and northerners generally are not sympathetic to the government.
"Before, the (rebels) were together in the north with the population supporting them. Now, they've got a target if things turn nasty," International Crisis Group's Rinaldo Depagne said.
Gbagbo has repeatedly accused Ouattara, a northerner, of being behind the rebellion. Ouattara denies the charge but he won landslides in most of the rebel-held territories.
Depagne said security was inadequate in the first round, with troops unarmed or lacking transport and communications.
"(The joint forces) CCI is not ready to secure the election," he said. "This is the main problem."