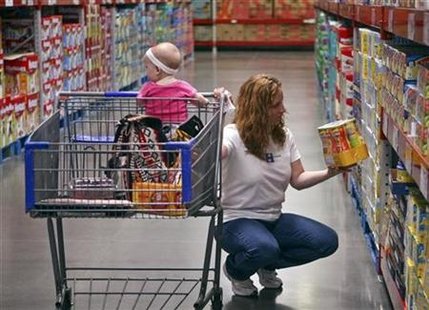 By Lucia Mutikani
WASHINGTON (Reuters) - Sales at retailers rose more than expected in October to post their largest gain in seven months, further evidence the economy was regaining strength after hitting a soft patch in the summer.
But Monday's upbeat report from the Commerce Department was tempered somewhat by news that a manufacturing gauge in New York state fell this month to its lowest level since April 2009.
The sturdy retail sale report offered hope for the holiday season and the broader economy, whose recovery from the worst recession since the 1930s had slowed in the summer.
"It's a strong report and reflects that the economy is growing a bit faster than anticipated, perhaps in the 2.5 percent range," said Michael Woolfolk, senior currency strategist at BNY Mellon in New York.
Total retail sales increased 1.2 percent, boosted by purchases of motor vehicles and building materials, after advancing by 0.7 percent in September. The rise last month was almost double market expectations for a 0.7 percent gain.
It was the fourth monthly increase in retail sales and was the latest in a series of data to suggest a pick-up in economic growth momentum.
Although the New York Federal Reserve's "Empire State" general business conditions index fell to -11.1 in November from 15.7 in October, economists were little worried and pointed out that the survey was not a bellwether for the rest of the U.S. economy.
Economists had expected the index a tick down to 14 this month. The survey's forward-looking index of business conditions six months ahead was more upbeat, rising to 54.6 from 40 in October.
MONETARY STIMULUS
A loss of momentum in the U.S. recovery prompted the Federal Reserve this month to launch a controversial $600 billion round of bond buying, known as quantitative easing, to provide additional stimulus.
Analysts said the U.S. central bank could shift toward a smaller stimulus package if economic data continues to show underlying strength in the recovery.
A second report from the Commerce Department showed business inventories rose 0.9 percent to $1.40 trillion, the highest level since March 2009, after increasing by a revised 0.9 percent in August.
Economists had expected September inventories to rise 0.8 percent from a previously reported 0.6 percent increase in August.
September's larger-than-expected increase in inventories and August's upward revision suggest the government might raise its preliminary GDP growth estimate when it publishes its first revision this month.
Initial estimates put third-quarter GDP at a 2.0 percent annual rate.
U.S. financial markets were little moved by the reports. Stocks on Wall Street were marginally up, while the dollar pared gains against the euro and the yen.
Motor vehicle and parts purchases surged 5.0 percent last month, also the largest increase since March, after rising 1.5 percent in September.
Excluding autos, sales rose 0.4 percent last month after a 0.5 percent increase the prior month. Markets had expected sales excluding autos to rise 0.4 percent in October.
Building materials and garden equipment sales rose 1.9 percent last month, the largest gain since April, after increasing 1.3 percent in September.
October's retail sales report showed gains across most categories, offering hope that consumers will support the economy, despite a 9.6 percent unemployment rate. Data so far for October, including nonfarm payrolls and manufacturing, have pointed to a pick-up in the growth pace.
Retail sales in October were also lifted by receipts at gasoline stations, which rose 0.8 percent after increasing 1.2 percent in September. Clothing and clothing accessories sales gained 0.7 percent, while receipts at sporting goods, hobby and book stores rose 1.0 percent, the largest increase since March.
Core retail sales, which exclude autos, gasoline and building materials, rose 0.2 percent after a 0.4 percent increase in September.
Core sales correspond most closely with the consumer spending component of the government's gross domestic product report. Spending, which accounts for 70 percent of U.S. economic activity, increased at a 2.6 percent annual rate in the third quarter.
However, purchases at electronics and appliance stores fell 0.7 percent in October. Furniture sales also fell 0.7 percent last month.
(Reporting by Lucia Mutikani, Additional reporting by Rodrigo Campos in New York; Editing by Andrea Ricci)