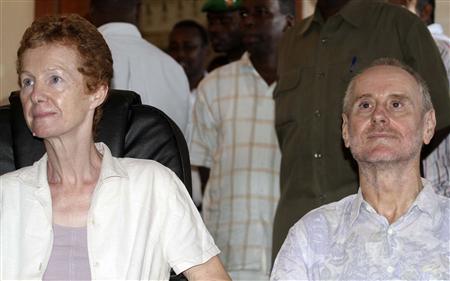 By Ibrahim Mohamed and Sahra Abdi
MOGADISHU/NAIROBI (Reuters) - Somali pirates released British couple Paul and Rachel Chandler on Sunday after holding them hostage for more than a year, and witnesses said a plane carrying them was on its way to the Kenyan capital.
Somali pirates kidnapped the retired couple on October 23 last year after hijacking their 38-foot yacht Lynn Rival in the Indian Ocean off Seychelles and negotiations had been going on for their release.
"I'm fine, thank you, enjoying being free ... We are with the good guys now," Rachel Chandler told Reuters by telephone just after being freed.
Mohamed Aden Tiicey, a senior official in the town of Adado where they were handed over, told Reuters the Chandlers were freed early on Sunday after the payment of a ransom.
Paul Chandler, 60, and his wife, Rachel, 56, are from Tunbridge Wells, Kent, in southeast England.
The Chandlers flew first to Mogadishu where they met Somalia's Prime Minister Mohamed Abdullahi Mohamed under heavy African Union troop guard.
"The Somali government and Somali people are pleased that they got their freedom. Transitional Federal Government ... exerted every humanly possible effort to bring you back to your loved ones and notwithstanding what you went through," Mohamed said in a statement to the smiling Chandlers.
Somalia has lacked an effective central government for almost two decades and is awash with weapons. The mayhem on land has allowed piracy to boom in the strategic waterways off its shores linking Europe to Asia and Africa.
BIG RANSOMS
Somali pirates typically hijack merchant vessels, take the ships to coastal towns they control and hold them until a ransom is paid. With ransoms often in the millions of dollars, the lucrative trade has continued despite foreign naval patrols.
According to the International Maritime Board, ship hijackings hit a five-year high in the first nine months of 2010 with Somali pirates accounting for 35 of the 39 ships seized.
According to Ecoterra, a rights group that monitors shipping in the Indian Ocean, more than 500 crew members and nearly 30 ships were still being held by Somali pirates as of November 10.
While the pirates usually focus on larger ships, a few yachts have also been seized.
Pirates kidnapped three South African yachtsmen about two weeks ago. One escaped when the yacht ran aground in southern Somalia and he was rescued by the European Union's anti-piracy task force. The other two are being held captive onshore.
A French hostage was killed and four others freed in April 2009 when French forces attacked a yacht that had been hijacked by Somali pirates.
Abdi Mohamed Elmi, a Somali doctor who has been involved in efforts to free the Chandlers, told Reuters: "We succeeded in getting the British couple released. We did our best to achieve this good news." (Additional reporting by Mohamed Ahmed, Abdi Guled and Abdi Sheikh in Mogadishu; Sahra Abdi and George Obulutsa in Nairobi; Editing by David Clarke and Peter Millership)