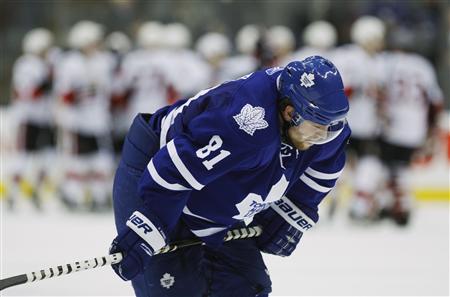 TORONTO (Reuters) - The slumping Toronto Maple Leafs ended their goal drought but not their losing streak as they fell to divisional rivals the Ottawa Senators 3-2 on Tuesday.
Toronto's Nikolai Kulemin beat Senators goalie Brian Elliott in the third period to end the team's worst scoring drought for 83 years but it came only after Mike Fisher, Sergei Gonchar and Erik Karlsson had given Ottawa a 3-0 lead.
It was a third consecutive defeat for Toronto (5-5-1) and their fifth in six games after beginning the season 4-0-0.
"We got into a little bit of a scoring slump, but in the third period, we began to come out of it a little bit," Toronto coach Ron Wilson told reporters.
The Leafs hadn't scored for over 167 minutes since Phil Kessel's goal in a 3-1 victory against Florida last week but after the dire run ended, Clarke MacArthur followed up with a shot that put Toronto within one with 51 seconds left.
The Maple Leafs, however, would get no closer as Elliott made 33 saves to lead Ottawa (5-6-1) to their first win over Toronto in six attempts.
Elliott produced a strong display, facing 18 shots in the third when the Senators could only manage four.
"He was our best player, no question," said Ottawa captain Daniel Alfredsson, who played after undergoing treatment for a bad back.
"It was a little closer than we wanted. We'll take the two points and go home."
Toronto's bad night was compounded with the loss of their captain Dion Phaneuf, who left the game in the second period.
"He's got a cut on his leg," Wilson said. "It was deep enough that they wanted to take him to the hospital to determine the extent of the injury. That's the last I heard."
(Reporting by Jahmal Corner in Los Angeles; Editing by Edited by Patrick Johnston)