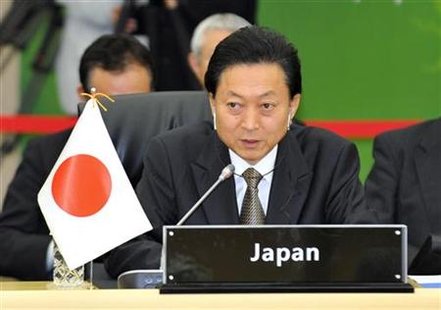 By Yoko Nishikawa
SEOGWIPO, South Korea (Reuters) - Japan's premier said Saturday he would stay in his post despite a political furor over a U.S.-Japan deal on a Marine airbase, but he was not optimistic about the party's chances in a looming election.
Prime Minister Yukio Hatoyama's decision to give up on a pledge to move the U.S. airbase off Okinawa has fanned local anger, upset a coalition partner, and risked another blow to his ratings ahead of the upper house election expected in July.
Chances are fading that Hatoyama's Democratic Party can win the decisive victory they need to avoid policy deadlock.
Hatoyama's support ratings have already sunk to around 20 percent on doubts about his leadership.
They could sink further on the base fuss, which has distracted the government as it tries to thrash out plans to cut huge public debt and a growth strategy for an economy faced with challenges of a fast-aging population.
"Of course, I am not optimistic," Hatoyama told reporters in South Korea when asked about his party's chances in the upper house election in the wake of a widening rift in his coalition.
Friday, Hatoyama fired the leader of a junior coalition partner, Mizuho Fukushima, from her cabinet post for resisting the U.S.-Japan deal on the Futenma base.
Some within his party are unhappy with how Hatoyama handled the base feud, which is forcing Fukushima's tiny, leftist Social Democratic Party to discuss whether to leave the government.
"I know I have to support him (Hatoyama) because he said he will continue serving as premier, but I hope he will make up his mind for the sake of the future of the country and its people," Democratic Party elder Kozo Watanabe was quoted by Kyodo news agency as saying in Japan.
But Hatoyama said he would continue to seek understanding from the public and his fellow party members about his decision to keep the controversial base on Okinawa.
He said this was necessary to deter threats especially at a time tensions are rising in Northeast Asia.
"That's my way of taking responsibility," Hatoyama added, when asked whether he would resign ahead of the election.
In the campaign that swept the Democrats to power last year, Hatoyama had raised hopes that Futenma could be moved off Okinawa, but he later backtracked, disappointing Okinawans.
Analysts have said Hatoyama was likely to cling to his post, not least because of the short time left before the election.
Hatoyama is in Seogwipo, a resort on the South Korean island of Jeju, to attend a regional summit with leaders from China and South Korea. Escalating tension on the Korean peninsula due to the sinking of a South Korean warship, which Seoul has blamed on Pyongyang, is high on the agenda at the summit.
COALITION IN QUESTION
Hatoyama said he wanted to maintain the ruling coalition even after firing Fukushima.
Fukushima, ousted as consumer affairs minister, suggested that her Social Democratic Party (SDP) was unlikely to stay in the ruling bloc ahead of the election.
"To have fired me is to abandon the Social Democratic Party," Fukushima said earlier in the day.
An SPD departure would be ill-timed for Hatoyama's Democratic Party ahead of the upper house election. But it would not topple the government because the Democrats have a huge majority in parliament's more powerful lower house.
Hatoyama said he would like to ask for the SDP for continued cooperation. "I would like to maintain the ruling coalition. But it is up to the SPD to decide, so we need to wait for the meeting of their local leaders," he said.
Hatoyama said that he would need to find a permanent replacement for the consumer affairs minister's post, but that he had no plan at the moment to reshuffle the cabinet.
Some Social Democrats want the party to leave the coalition, others want to stay in power to influence policy. The party is expected to make a final decision Sunday on whether to bolt.
(Additional reporting by Linda Sieg in Tokyo, Editing by Paul Tait and Mark Heinrich)