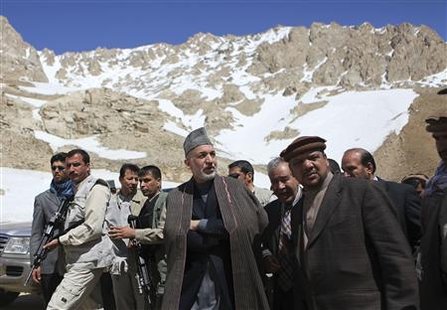 By Sayed Salahuddin
KABUL (Reuters) - Afghanistan's parliament rejected a presidential decree on Wednesday that would bar foreigners from a U.N.-backed electoral watchdog and would allow the president to select all of its panel members, a lawmaker said on Wednesday.
Afghan President Hamid Karzai's decision in February to remove three foreign observers from the five-member Electoral Complaints Commission (ECC) drew stern criticism from his Western allies and the main opposition bloc at home.
Karzai partly backed down on his decision this month, telling the new special envoy for the United Nations, Staffan de Mistura, the organization could choose two foreigners to sit on the panel.
The decree would still have allowed Karzai to pick the remaining three members in consultation with the chief justice and the heads of the lower and upper houses of parliament.
Fawzia Koofi, a parliamentarian in Afghanistan's lower house said members had unanimously voted on Wednesday against Karzai's decree.
"Now, as was mentioned in the previous law, the United Nations, the Supreme Court and the human rights commission will appoint the five members of the complaints commission," Koofi told Reuters by telephone.
But diplomats say that for the decree to be completely tossed out, parliament's upper house would also have to reject it and Karzai would have to sign off on both houses' decisions.
The rejection by Afghanistan's lower house will still come as a blow to Karzai and could ultimately delay a parliamentary election set for September, preparations for which are due to begin next month.
"This was a clear rebuke to Karzai by parliament," one Western diplomat in Kabul told Reuters. "But there is concern this could hold up the electoral process."
Tasked with reviewing voting fraud, the ECC, which had its three foreign members appointed by the United Nations, last year nullified a third of Karzai's votes in the presidential poll as fraudulent.
The decision could lead to a showdown between Karzai and parliamentarians who are fed up with the incumbent's often autocratic leadership style and tendency to ignore parliament.
In January, parliamentarians flexed their muscles, making full use of a rare opportunity to hold the president to account by rejecting a large swathe of his cabinet nominees.
A spokesman for the U.N. mission in Afghanistan, Dan McNorton, said he was aware of parliament's vote and that his organization was "watching with interest."
"We must avoid a vacuum where Afghanistan's election management authorities do not have clarity about the law they are supposed to implement," said McNorton.
(Additional reporting by Jonathon Burch and Peter Graff; Writing by Jonathon Burch)
(For more Reuters coverage of Afghanistan and Pakistan, see: http://www.reuters.com/news/globalcoverage/afghanistanpakistan)