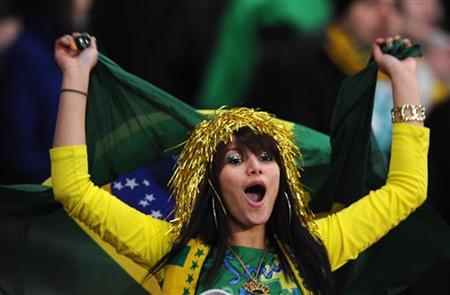 By Opheera McDoom
JOHANNESBURG (Reuters) - Soccer fans from 23 countries are tipping five-time world champions Brazil to win the first ever World Cup finals held on African soil, a Reuters/Ipsos poll found on Friday.
Soccer buffs from South African agreed with that prediction, according to a separate poll of more than 2,500 supporters from the host nation said, with optimistic fans of the home team backing their beloved Bafana Bafana (the boys) to come second.
"I think Brazil will win because they have training secrets which we don't know yet here in South Africa," said Primrose Pendu in Johannesburg.
"I think Brazil will be against Bafana Bafana in the final and I will be so nervous watching," she said.
On Friday the tournament kickoffs with South Africa playing Mexico. The host nation had been seen as a no-hoper to go far in the competition but has shown good form in build-up matches, raising the expectations of their hopeful fans.
While British bookmaker Ladbrokes have Spain as the favorite to take the 2010 trophy, the Reuters poll of more than 12,000 soccer enthusiasts in 23 nations tipped Brazil to triumph, with the backing of 31 percent of those surveyed.
But they did not rate South Africa's chances of reaching the July 11 final, with Brazil also emerging as the most likely runner-up with 14 percent, followed by Germany with 11 percent.
(Editing by Michael Holden)