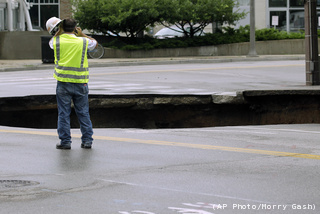 MILWAUKEE, Wis. (WTAQ) - Governor Jim Doyle has declared a state of emergency in Milwaukee County after terrential downpours left thousands without power, streets became rivers and a sinkhole was caused.
The governor's declaration directs state agencies to aid local governments in recovery efforts. Wisconsin Emergency Management will work with local officials to assess damage.

Milwaukee County Executive Scott Walker earlier asked Doyle to petition President Barack Obama for federal aid. In a statement issued Doyle said, "Yesterday, Milwaukee saw what may be record rainfall. Mayor Barrett called to update me on the damage this morning and I assured him that the state will do everything we can to help people in Milwaukee."

Nearly 8 inches of rain fell fast Thursday afternoon and evening, flooding southern Wisconsin roadways, stranding air travelers at Mitchell International Airport and dumping water and sewage into the basements of hundreds of homes.