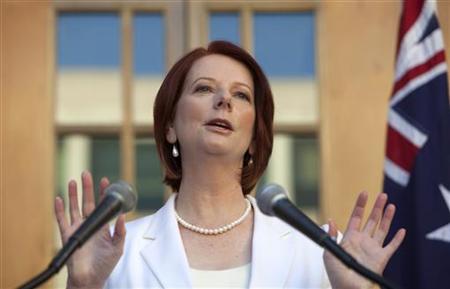 By Ed Davies
SYDNEY (Reuters) - Australian Prime Minister Julia Gillard is on course for a narrow win in an August 21 election, an opinion poll showed on Sunday, although issues such as border protection and population will be key in the campaign.
Support for the ruling Labor party has rebounded since Gillard, Australia's first female prime minister, was appointed three weeks ago. Seeking to take advantage of her lead and a robust economy creating jobs, she called an election on Saturday.
But the poll is set to be tight with conservative opposition leader Tony Abbott only needing nine more seats to form a government with four independents, or 13 to take office outright.
A new opinion poll released on Sunday showed the Labor government maintaining a slim lead over the opposition. The Galaxy poll put Labor on 52 percent compared to 48 percent for the conservative opposition.
But the survey showed that the government will have to rely on support from Greens' voters to ensure victory.
The opinion poll gave Gillard a strong 55 percent to 32 percent lead over Abbott as preferred prime minister.
Financial markets are not expected to react much to the election given there is little to choose on core economic policy.
Despite Labor steering the economy through the global financial crisis and avoiding recession last year, opinion polls show voters view the opposition as better economic managers.
Abbott accused the government of wasteful spending and pledged to stop the flow of boatpeople heading to Australian waters, a sensitive issue particularly in crowded city areas.
"I think people are right to be concerned about those who arrive unsafely, without papers," Abbott said on local TV, claiming Australia had become "a soft touch" over boatpeople.
Gillard has proposed a possible East Timor regional asylum processing center to stop boatpeople arriving in Australia, although Dili has given the plan a cool response. Abbott plans to reopen Pacific island detention camps.
Abbott also sought to rekindle a debate over the government's watered down new mining tax, which he said would give Australia's mining sector the highest tax rate in the world.
"You do not speed up the slow lane by slowing down the fast lane," he said, referring to talk of a two-speed Australia with the resource-rich states of Western Australia and Queensland benefiting more than others from high mineral prices.
Abbott has vowed to dump the tax, which the government has said will raise A$10.5 billion ($9.12 billion) from 2012.
Political commentators say that the conservative voter base had strengthened under Abbott but highlight a significant number of swing voters.
"Tony Abbott has many pluses as a leader but he frightens some people. His views turn off some voters and he has always had trouble with women voters," said John Warhurst, professor of political science at the Australian National University.
Abbott is a socially conservative Catholic, and is opposed to same sex marriages and abortions.
In contrast, Gillard does not believe in God, is unmarried but has a long-time partner, and is childless.
(Additional reporting by Michael Perry; Editing by Jeremy Laurence)