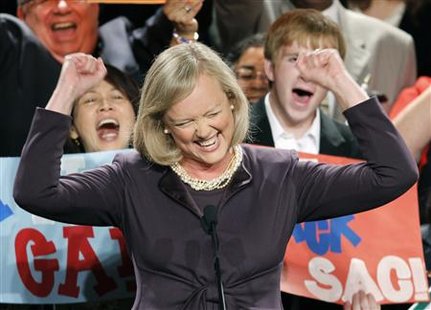 By Dan Whitcomb
LOS ANGELES (Reuters) - Republican Meg Whitman on Monday took the lead over Democrat Jerry Brown for the first time in a general election poll, four months before voters go to the polls to chose the next California governor.
Whitman, the former CEO of eBay Inc making her first run for political office, leads Brown, the state's attorney general, by a margin of 46 percent to 39 percent, according to the survey by CBS-5 KPIX TV.
The poll finds Whitman, a billionaire who has largely financed her own campaign, favored by 77 percent of Republicans and holding a slight edge among independents, with 64 percent of Democrats choosing Brown.
It was the first poll of the general election campaign to show Whitman beating Brown, a former California governor running in what is considered a reliably Democratic state.
A Field Poll released last week showed Brown and Whitman essentially in a dead heat.
The winner in November will inherit a state burdened by double-digit unemployment, a budget tens of billions of dollars in the red and a profoundly unpopular, polarized legislature.
The gubernatorial race in California, the nation's most populous state, may also serve as a political bellwether in a year when political analysts say the still-lagging U.S. economy has left Democrats and incumbents vulnerable.
Republican Arnold Schwarzenegger, a former film star and political moderate, cannot run for reelection again after serving two terms, the limit for California's governor.
The CBS-5 poll, conducted from July 8 through July 11 by SurveyUSA, also showed Democrat Barbara Boxer and Republican Carly Fiorina essentially tied in their U.S. Senate race. The poll of 614 likely California voters had a margin of error of plus or minus 4 percentage points.
(Editing by Todd Eastham)