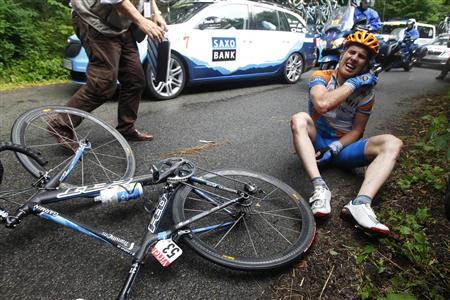 By Julien Pretot
SPA, Belgium (Reuters) - Defending Tour de France champion Alberto Contador, Lance Armstrong and the Schleck brothers escaped with minor injuries after a massive crash in Monday's second stage.
The quartet fell off their bikes in the descent of the col de Stockeu, some 30 kms from the finish, after rain and an oil spill had made the road extremely slippery.
Even race technical director Jean-Francois Pescheux fell on his rear when he got out of his car as the tried to help out a few riders by the side of the road.
Contador suffered some scratches, seven times champion Armstrong had bruises on his right hip and elbow while the Schleck brothers sustained "a lot of bruises," according to their Saxo Bank team manager Bjarne Riis.
Spaniard Contador told his Astana manager Yvon Sanquer that he had the feeling he would never stop sliding.
"Most people were just confused. What's going on? Who's in front? Who's behind? They (SaxoBank) had a tough situation with (Fabian) Cancellara in the front, the Schlecks in the back," Armstrong told reporters.
"It was bad luck. We just kept passing guys, all the way down it's a bit surreal."
"It was impressive, there were riders all over the place, bikes all over the place," said Sanquer.
Armstrong said it had never crossed his mind that his Tour could be all over in a fraction of a second.
"It was more of a slide. I got some good abrasion, but it was not much impact. It was mostly just road rash," he said.
"I fell on a straight part at about 60 kph and when I thought about what could have happened, I saw there were riders all over the place on the ground. It was just impossible to stay on the bike."
With riders scattered all over the place, it took time to the peloton to regroup because of the unwritten law that the competitors do not attack after a crash.
Armstrong summed up the situation: "It was pretty even. Almost everybody crashed. Between yesterday and today the vast majority of the peloton has been on the ground, at least once."
At almost 39, the Texan also wondered aloud why he came out of retirement last year.
"I had a weird feeling this morning. I had a strange feeling when I woke up," he said. "Almost all day I wondered why I came off the beach. But I'll be back at it tomorrow."
Tuesday's third stage will feature seven cobbled sectors and could also prove tricky.
"Hopefully it's sunny tomorrow," said Armstrong.
"It's the worst day for this to happen because tomorrow we have to tackle the cobbles and it (the vibrations) could hurt, but I remain optimistic," said Contador.
(Editing by John Mehaffey)