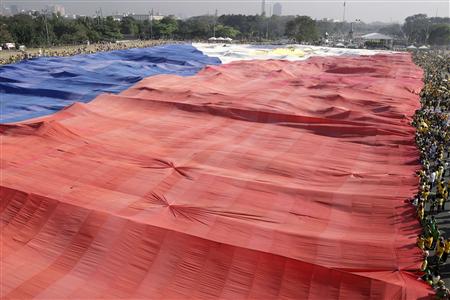 By Manny Mogato
MANILA (Reuters) - Philippine politicians launched their campaigns on Tuesday in a wide-open race for the presidency, with poverty, corruption and unemployment the top issues for the impoverished Southeast Asian archipelago.
Elections in the Philippines are always colorful and typically marked by fraud and violence, but voters are hoping to turn over a new leaf after the scandal-plagued administration of President Gloria Macapagal Arroyo.
More than 50 million Philippine voters will choose a president, vice president, nearly 300 lawmakers in the two-chamber Congress, and more than 17,600 local government officials in the first nationwide automated polls on May 10.
Candidates pressed hands with vendors, housewives, laborers and teenagers as they hopped from town to town just a few hours away from Manila, visiting markets, parks and churches on the first of 90 days of campaigning.
"We're hoping the candidates can give us a clearer picture on how they will address the government's budget deficit problem," said Jose Vistan, analyst at AB Capital Securities.
"Up to now, I don't see any clear policy in terms of managing the exchange rate, interest rates and inflation. Hopefully we can have a better picture during the campaign."
The latest opinion poll shows two opposition lawmakers neck-and-neck, but analysts say it is too early to assume a two-horse race.
Arroyo, in office since 2001, is barred from running again. Allegations that she stole the 2004 presidential elections, and
that her husband profited from a multi-million-dollar telecoms contract and other deals, have marred her nine-year rule.
A Pulse Asia survey last month pointed to a tight race between Senator Benigno "Noynoy" Aquino, son of the country's revered democracy icon, Corazon "Cory" Aquino, and billionaire lawmaker Manuel "Manny" Villar.
Some candidates heard Mass at churches, with one transforming his rally into a prayer gathering, re-enacting the Lenten tradition of Jesus Christ washing the feet of his disciples to illustrate his desire to be a public servant.
Financial markets are hoping for a smooth transition, outweighing fears of possible technical and administrative problems from the country's first automated polls.
Analysts are looking for more details on the candidates' platforms, particularly economic policies, which are absent from a barrage of political ads on TV and radio since the start of the year.
Historically, popular personalities from political clans, the media, sports and show business dominate the elections in the Philippines, but some analysts are seeing some positive changes.
"In this election, I see a 50-50 ratio on personalities and platforms or issues as the political race heats up among the leading presidential candidates," said Ramon Casiple, executive director of Institute for Political and Electoral Reforms.
Filipino voters have matured after nine years of Arroyo and the previous administration of ousted president Joseph Estrada, later convicted for plunder.
Estrada, who is taking a second shot at the presidency in the May polls, won with the widest margin ever seen under a multiparty system in 1998.
(Editing by Rosemarie Francisco and Nick Macfie)