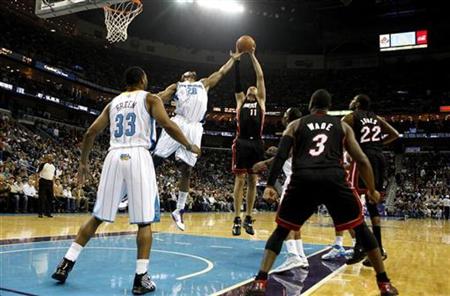 NEW YORK (Reuters) - The National Basketball Association said it agreed to buy the New Orleans Hornets from majority owner George Shinn after a deal to sell the team to minority owner Gary Chouest fell through.
The league said on Monday that Chouest decided not to buy the team because of economic uncertainty in New Orleans and Louisiana.
"In the absence of any viable purchaser seeking to own the Hornets in New Orleans, I recommended to the NBA Board of Governors that the best way to assure stability and the adequate funding of the franchise would be for the league to step in, and complete the transaction and assume control," NBA commissioner David Stern said in a statement.
No deal value was immediately disclosed.
Stern said the league recruited Jac Sperling, vice chairman of the parent company of the NHL's Minnesota Wild, to be the team's chairman and governor.
The deal is subject to a vote by the NBA's Board of Governors, which will likely take place next week.
(Reporting by Michael Erman; editing by Andre Grenon)