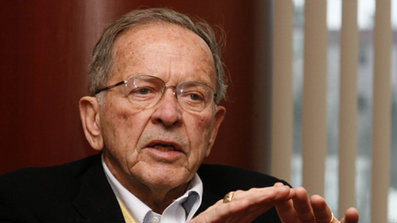 ANCHORAGE, Ak. (WTAQ) - Former Alaska Senator Ted Stevens has died in a plane crash near Dillingham, Alaska.
The single-engine plane went down last night in rugged terrain. Bad weather hampered rescue efforts.
There's no word on the fate of former NASA chief Sean O'Keefe, who was also on board. A preliminary report from the FAA says five of the nine people on board were killed in the crash.
There's no word on what caused the plane to go down. Stevens was 86 years old.
Stevens served in the U.S. Senate from December 24th, 1968 until January 3, 2009. That makes him the longest serving Republican senator in history. Stevens was a veteran of World War II and held senior positions in the Eisenhower administration, as well as practicing law, before being elected to office.
He was at one time the Senate's President Pro Tempore, as well as chairman of the Senate Rules Committee and Appropriations Committee. tevens was defeated in his 2008 re-election bid by Democrat Mark Begich after he was found guilty of multiple counts including failing to report gifts and other ethical violations.
Obama administration Attorney General Eric Holder later vacated Stevens' conviction, citing prosecutorial misconduct during the trial.

Stevens was a graduate of the University of California, Los Angeles, and Harvard Law School. He is survived by his wife, Catherine, and daughter, as well as five children from his first marriage.
Stevens' first wife, Ann, was killed in 1978 in a plane crash which Stevens survived.