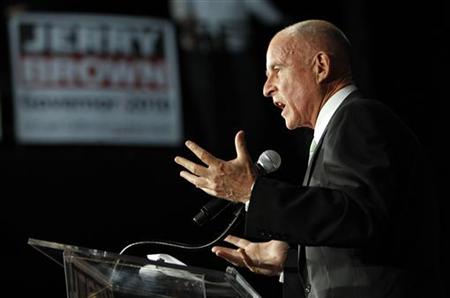 By Dan Whitcomb
LOS ANGELES (Reuters) - The campaign for California governor, pitting Democrat Jerry Brown against Republican Meg Whitman, remains essentially a dead heat three months before the November election, according to a poll released on Friday.
The Rasmussen Reports survey of likely California voters found Brown, the state's attorney general, leading former eBay CEO Whitman 43 percent to 41 percent, within its margin of error of plus or minus four points.
Six percent of those who responded preferred a third candidate and 10 percent remain undecided.
Democrats and Republicans nationwide are keeping a close eye on the California governor's race, a potential bellwether in which Whitman hopes to capitalize on her outsider status and deep pockets to beat Brown in what is considered a reliably Democratic state.
The next governor of California will inherit a state struggling with double-digit unemployment, a budget tens of billions of dollars in the red and a profoundly unpopular, often gridlocked legislature.
California, the nation's most populous state, has a huge economy and is home to the Silicon Valley technology hub.
The latest Rasmussen poll, conducted by telephone on Tuesday, showed little change from July's survey in which Whitman was at 47 percent and Brown at 46. The two candidates have been neck-and-neck for most of the campaign.
The survey found 60 percent of California voters consider Brown, who served as governor of the state from 1975 to 1983 and unsuccessfully sought the Democratic nomination for president three times, to be liberal.
A similar number, 59 percent, consider Whitman to be conservative.
In the poll of 750 likely California voters, 24 percent viewed Brown very favorably, while 37 percent saw him very unfavorably.
Eighteen percent had a very favorable opinion of Whitman compared with 28 percent who viewed her very unfavorably.
According to the poll only 29 percent of those responding approved of the job being done by current Governor Arnold Schwarzenegger, compared with 69 percent who disapproved.
(Reporting by Dan Whitcomb, editing by Jerry Norton)