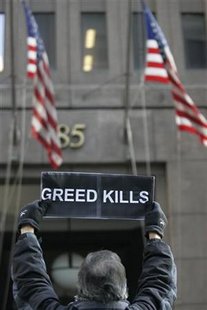 NEW YORK (Reuters) - Wall Street may have fed New York's coffers for decades, but a majority of the city now see it as the problem not the cure for the city's economic woes, a poll showed on Tuesday.
Some 56 percent of New Yorkers came down against the country's financial heart, with only 24 percent for, according to the Marist Institute for Public Opinion.
The survey was taken as the battle over tighter regulation of the financial sector took off in Washington this month.
"Wall street may be part of New York City's economic engine, but even here, New Yorkers point to its pitfalls," the institute's director Lee Miringoff said. "It doesn't boost Wall street to be New York City's 'main street'."
The view of Wall Street was much more positive in Manhattan itself, home to many bankers and brokers, than in the rest of the city.
Only 49 percent of Manhattan residents called Wall Street the problem. In contrast, residents of Queens, Staten Island and The Bronx, faulted Wall Street by margins of 65 percent to 61 percent.
State data show New York gets about 12 percent of its revenue from Wall Street but the sector's workers are paid about 35 percent of all wages.
(Reporting by Joan Gralla; Editing by Patrick Graham)