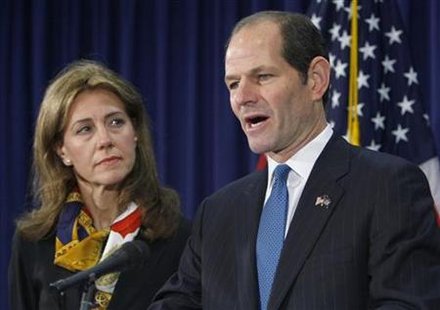 NEW YORK (Reuters) - A majority of New York voters do not want disgraced former Governor Eliot Spitzer to run for statewide office this year, but many say that they would support a run in the future, a poll said on Wednesday.
Asked "Should Eliot Spitzer ever run for public office in New York again, or not?," 45 percent said Spitzer, thought by many to be engineering a political comeback, should run for office some day, said the Marist College Institute for Public Opinion survey.
But 48 percent said his political career is over. The survey did not address how New Yorkers would vote if he did run.
Spitzer, who portrayed himself as a Wall Street watchdog when he ran for office, resigned in March 2008 amid a prostitution scandal. But he has fueled speculation of a return.
"I love politics," Spitzer said in a recent Fortune magazine interview. He also said: "I've never said I would never consider running for office again."
The Marist poll found 58 percent do not want him to run for statewide office -- the governor's job is coming open and U.S. Senator Kirsten Gillibrand is seeking a new term -- this year. It found 30 percent said he should run and 12 percent were unsure.
"Eliot Spitzer's political scars remain, although for some New Yorkers, they may have faded a bit," said Lee Miringoff, director of the institute, in a statement. "Eventually, voters may go for the idea of Spitzer running for office but not yet."
Spitzer has been writing columns at the online magazine Slate, teaching and appearing as a pundit on television.
He resigned as governor after he was revealed on a federal wiretap arranging to meet a prostitute in a Washington hotel room. A new book to be excerpted in Fortune says Spitzer spent more than $100,000 on prostitutes in the two years before he was exposed.
Overall, the Marist survey showed 28 percent of voters had a favorable view of Spitzer, and 50 percent were unfavorable.
Marist surveyed 694 New York registered voters on April 12 and 13, 2010, by telephone. The margin of error was plus or minus 4 percentage points.