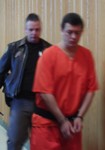 STEVENS POINT, Wis. (WSAU) – A Portage County judge will let prosecutors introduce evidence at trial they say puts a Plover man at a murder scene and proves he killed a trucker out of mistaken identity.
Prosecutors say the evidence will show that Michael Haydon killed Kolbe and Kolbe driver Pat Zemke as he slept in his cab on a highway off-ramp in November 2003.
Judge Thomas Flugaur granted a motion that will let the state use DNA evidence from dog hairs found at the scene to show that Haydon was present in the truck. The hairs have been linked to the same breed of dog that Haydon and his ex-girlfriend owned.
The jury can also hear that Haydon sexually assaulted the woman hours before the alleged assault. Prosecutors say the ability to show that is key to their theory in the case – that Haydon killed Zemke because he wrongly believed Zemke was having an affair with the woman.
Another important element that Flugaur will allow are parts of phone calls that Haydon secretly recorded between the woman and others.
But Haydon's defense has raised an alternate theory that another man had the same motive and opportunity to kill Zemke. Flugaur will decide by November 3rd whether that third-party theory can be used at trial.
Haydon must testify that he's been convicted of 11 crimes in the past if he testifies, Flugaur also ruled.
Haydon is scheduled to go on trial February 8th.
He is currently serving a 25-year prison sentence for sexually assaulting his ex-girlfriend hours before the alleged murder.