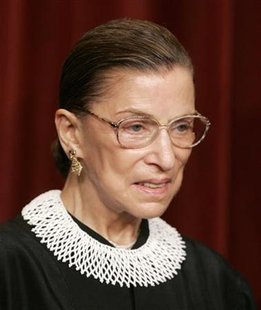 WASHINGTON (Reuters) - U.S. Supreme Court Justice Ruth Bader Ginsburg was released Friday from a Washington hospital, a day after she experienced lightheadedness and fatigue, and plans to be back at work in the afternoon, a spokeswoman said.
Ginsburg, 76, had been taken to the Washington Hospital Center Thursday evening as a precaution after feeling ill in her chambers following an iron sucrose infusion earlier in the day to treat anemia.
Court spokeswoman Kathy Arberg said Ginsburg was released Friday morning and she "plans to be at work at the court this afternoon." The one-sentence statement gave no further details.
Ginsburg, the second female justice, has been a reliable liberal vote on the closely divided, nine-member court since her selection in 1993 by Democratic President Bill Clinton.
She underwent surgery in February for pancreatic cancer. She has said the operation was a success, that she was cancer-free and that she expects to be on the court for at least several more years
(Reporting by James Vicini, Editing by David Alexander and Bill Trott)