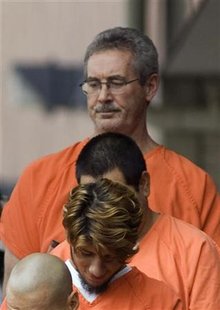 HOUSTON (Reuters) - Allen Stanford, who is in jail awaiting trial on charges related to an alleged $7 billion fraud, was taken to a Texas hospital after a fight with another inmate, a Houston television station reported on Friday.
Stanford, 59, was injured in the fight on Thursday morning and needed medical attention. He will be kept in the hospital overnight returned to the jail on Saturday, KPRC-TV reported.
No other details were provided.
A phone call to Stanford's lawyer was not immediately returned. A representative from the U.S. Marshal's Service did not have a comment.
Stanford has been in a federal detention facility 40 miles north of Houston since his arrest in June. He is accused of running a Ponzi scheme targeting clients of his offshore bank in Antigua.
(Reporting by Anna Driver in Houston; editing by Andre Grenon)