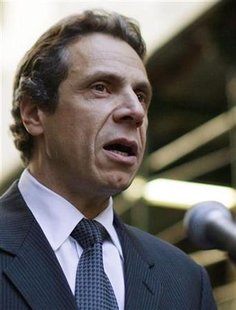 NEW YORK (Reuters) - New York Attorney General Andrew Cuomo emerged as the leading candidate in a poll on the 2010 gubernatorial race released on Tuesday, easily topping incumbent David Paterson and former New York Mayor Rudolph Giuliani.
Cuomo enjoys a more than 3-to-1 lead over Paterson in a hypothetical Democratic primary, the poll by the Siena (College) Research Institute found.
The attorney general leads Giuliani by 52 percent to 39 percent and has a 66 percent to 16 percent win over Rick Lazio, the former congressman who on Tuesday formally announced his candidacy for the GOP nomination.
Giuliani has not clearly stated his intention to run either for governor or for the Senate race also scheduled to take place next year.
The institute polled 792 New York State registered voters between September 13 and 17 and found only 14 percent are prepared to elect Paterson Governor, while 71 percent prefer "someone else."
About three quarters of those polled said Paterson means well but is falling down in the task of addressing the state's fiscal problems.
"Even Democrats, by a significant margin, believe the Governor is well intentioned, ineffective, bad on fiscal issues and lacking leadership," Siena New York pollster Steven Greenberg said in a statement.
Paterson's poor score comes amid reports that President Barack Obama is urging him not to run for office next year for fear that he will be unable to overcome a series of political setbacks.
Paterson has so far resisted the call and insists he is still running as planned.
Obama on a visit to New York on Monday appeared to signal his preference for Cuomo as a candidate, praising the "great work" he is doing in a public speech.
Giuliani fares poorly in the poll, with about half of the voters polled opposed to his running for any kind of office next year.
About 41 percent of Republicans favor a Giuliani bid for governor and if he challenges the state's junior senator Kirsten Gillibrand, he is running ahead by 46 percent to 38 percent, the poll found.
Jobs, government reform and taxes emerged as top three concerns for Republicans and independents, as well as suburban and upstate voters. For Democrats and New York city voters, healthcare, jobs and government reforms came out on top.
The poll had a margin of error of plus or minus 3.5 percent.
(Reporting by Ciara Linnane; Editing by Andrea Ricci)