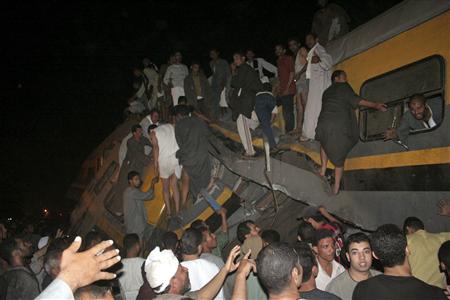 CAIRO (Reuters) - The death toll from a train crash south of Cairo has reached 18, the Health Ministry said on Sunday, a day after the two Egyptian passenger trains collided.
The ministry, in a statement carried by the official Middle East News Agency (MENA), said 39 people were also injured in the accident on Saturday evening but said 12 of those had already been discharged from hospital.
A first class train, filled with passengers, rammed into a mostly empty stationary train on the same track, security sources said.
Reuters Television images showed two crumpled carriages. It also showed the corpse of a cow under the wheels of one of the trains. MENA, citing witnesses, said the first train had stopped after it struck the cow.
The moving train was headed south from Cairo toward Assiut and Aswan, a major tourist attraction that is home to pharaonic ruins, security sources said. No foreigners were reported among the casualties.
An Egyptian railway authority official said a technical committee had been set up to investigate the cause of the crash.
A series of road and rail accidents in Egypt in recent years has triggered an outcry over the government's handling of transport safety.
Saturday's accident took place in al-Ayyat, which in 2002 was the scene of Egypt's worst rail disaster when fire ripped through seven carriages of an overcrowded passenger train, killing at least 360 people.
A train crash in northern Egypt killed 44 people in 2008, two years after a crash that killed 58 people.
(Writing by Edmund Blair)