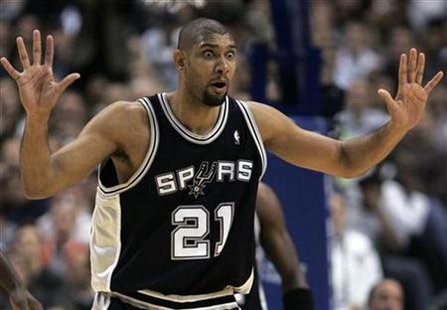 SAN ANTONIO, Texas (Reuters) - Tim Duncan scored 24 points and had 12 rebounds as the San Antonio Spurs beat Milwaukee 112-98 on Monday to end the Bucks' three game winning streak.
Reserve Matt Bonner chipped in with 23 points, including six 3-pointers, as the Spurs managed made it back to back wins to improve to 6-6 this season.
"We're moving the ball really well. We have really good shooters and when we can get those guys open shots it's best for us," Duncan told reporters.
"We're also getting a lot of good play from our bench and that's what we're going to need if we're going to win games like this."
Ersan Ilyasova top scored for Milwaukee (8-4) with 20 points while rookie Brandon Jennings added 12, well down on his 25.3 season average and his 55-point haul against the Golden State Warriors earlier this month.
"I don't think he (Jennings) was forcing shots. He went to the rim a few times in transition and came up empty," Bucks coach Scott Skiles said.
"They played pretty good defense on him. He had some looks that he has been making and just missed tonight."
The Spurs trailed 50-49 at halftime but surged ahead with a 37-24 advantage in the third quarter, featuring 15 points from Duncan.
George Hill finished with 14 points off the bench for San Antonio who also got 11 apiece from Roger Mason and Richard Jefferson who was playing against his old team after being traded from Milwaukee in the offseason.
(Writing by Jahmal Corner in Los Angeles; Editing by