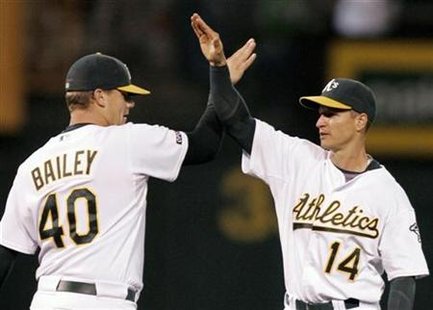 By Larry Fine
NEW YORK (Reuters) - Oakland Athletics closer Andrew Bailey was named American League Rookie of the Year while Florida Marlins outfielder Chris Coghlan won the National League award announced Monday.
Bailey, 25, emerged as Oakland's closer early in the season and registered 26 saves with a 1.84 earned run average.
He was listed first on 13 of 28 ballots and garnered 88 points in the voting by the Baseball Writers' Association of America with points given for being named first, second or third.
Bailey finished 23 points ahead of Texas Rangers shortstop Elvis Andrus, with Detroit Tigers starter Rick Porcello one more point behind.
"Going into the season, it was my first big league training camp, and my goal was just to make an impression to be considered maybe for September call-ups," Bailey said in a conference call.
"Then a couple of injuries came around for the pitching staff and I thought maybe I have a chance to stay."
Bailey, who was moved to the bullpen after struggling as a starter in 2008 at Double A, had just two saves before claiming the closer's role in June and making the All-Star team.
Coghlan won the Jackie Robinson Award in the National League after being named first on 17 of the 32 ballots cast by two writers from each city in the league.
The 24-year-old Coghlan batted .321, scored 84 runs and logged an on-base percentage of .390.
Coghlan received a total of 105 points, 11 better than Philadelphia Phillies pitcher J.A. Happ, the only player named on all ballots. Atlanta Braves hurler Tommy Hanson finished a distant third in the voting.
After splitting his time in the minors between second and third base, Coghlan was called up in May to play outfield for the Marlins after just one game there at Triple A New Orleans.
"I was playing left-field, a position I never played before in my life and I was batting lead-off, something I hadn't done in a long time," he told reporters. "I only got one game to play outfield before I came up."
Coghlan started slowly at the plate, batting in the .240s by the mid-season All-Star break, before catching fire with 94 hits over the last two months of the season.
(Editing by Kevin Fylan)