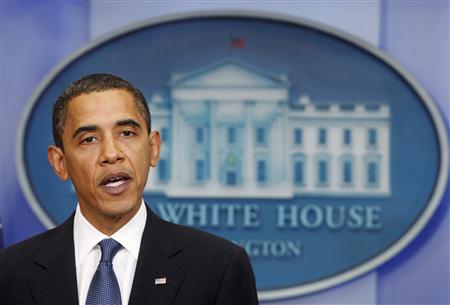 WASHINGTON (Reuters) - President Barack Obama said on Sunday the approval of a long-delayed election law by Iraq's parliament would allow the polls to go ahead early next year and pave the way for the withdrawal of U.S. forces.
The national election, due to be held in January, is seen as a crucial test for Iraq, the world's 11th largest crude oil producer, as it emerges from the sectarian carnage that followed the U.S. invasion in 2003.
"This agreement advances the political progress that can bring lasting peace and unity to Iraq and allow for the orderly and responsible transition of American combat troops out of Iraq by next September," Obama said at the White House soon after the Iraqi parliament approved the law.
With the Obama administration focused on arresting the deteriorating security situation in Afghanistan, it is anxious to complete the pullout of combat troops on schedule. U.S. forces are due to withdraw completely by the end of 2011.
Acknowledging the recent spate of bombings in Iraq that have claimed scores of lives, Obama said Iraq would face "difficult days" ahead.
U.S. officials had pressed Iraqi leaders to overcome differences and pass the election law as soon as possible, fearing that any further delays would prevent the poll from being held on schedule in January.
"I want to congratulate Iraq's leaders for reaching this agreement. Their flexibility and commitment to their country send an important signal to the world about Iraq's democracy and national unity and I look forward to the prompt approval of this law by Iraq's presidency council," Obama said.
(Reporting by Ross Colvin, Jasmin Melvin and Lesley Wroughton, editing by Jackie Frank and Chris Wilson)