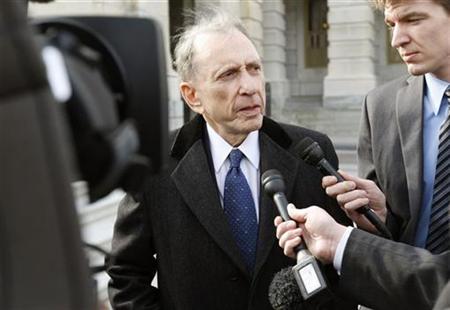 NEW YORK (Reuters) - Democratic Senator Arlen Specter of Pennsylvania is running even with relatively unknown Republican challenger Pat Toomey for a 2010 race that could help determine the balance of power in the U.S. Senate, according to a poll released on Friday.
Specter, 79, is a longtime Republican who broke with the party in April and joined the Democrats, helping them reach the 60-vote threshold in the 100-member Senate, a super majority crucial for overcoming Republican opposition to legislation.
The Quinnipiac University survey found voters split 44-44 percent between the two candidates when asked who they would elect if they were to vote today.
In a May 4 Quinnipiac University poll, Specter held a 53 to 33 percent lead over Toomey and has been gradually slipping since.
Though Specter carries a strong lead in the Democratic primary, the Pennsylvania Senate race is one of a handful where Democratic incumbents are facing a challenge.
His overall approval rating is 47 percent, the poll said.
Quinnipiac said its poll of 1,381 Pennsylvania voters surveyed between December 8 and December 14 had a margin of error of plus or minus 2.6 percentage points.
(Reporting by Basil Katz; Editing by Daniel Trotta)