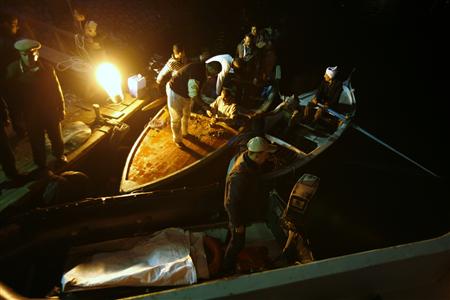 CAIRO (Reuters) - Egypt ended a search on Saturday for victims of a collision of two Nile ferries without finding any bodies despite initial fears that dozens were missing, a regional official said.
The two craft hit each other near Rashid city in Beheira governorate in north Egypt on Friday. Initial reports suggested several dozen passengers and crew may have been missing as the exact number of people on board the vessels was unclear.
"Rescue units ended the search after they have searched an area of two km in the Nile, where no bodies were found," Beheira Governor Mohamed Sharawy told Reuters.
Sharawy also said no statements for missing people were filed since the accident had happened, suggesting all passengers had now been accounted for. "There is no indication that someone has died in this accident," Sharawy added.
Public river ferries in Egypt can sometimes be crowded and total numbers being carried are not always recorded, making an accurate count of those involved or missing difficult.
One of the ferries was a passenger ferry that broke apart during the accident while the other, carrying both passengers and cars, overturned causing no injuries or fatalities.
Sharawy said six of those injured had been transferred to hospital and his governorate would pay each injured victim 2,000 Egyptian pounds ($366) in compensation, Sharawy said.
The prosecution in Alexandria ordered the detention of the two ferry drivers and owners of the two vessels, the official MENA news agency reported. It said they faced charges including causing injury by mistake and failure to follow regulations.
A series of road, rail and sea accidents in Egypt in recent years has triggered an outcry over the government's handling of transport safety.
In February 2006, a ferry in the Red Sea caught fire and sank en route to Egypt from Saudi Arabia, killing 1,034 of the 1,400 people on board, many of them poor Egyptians.
An Egyptian appeals court in March this year found the owner of the Red Sea ferry guilty of manslaughter and sentenced him to seven years in jail, reversing an earlier decision exonerating Mamdouh Ismail, a member of Egypt's upper house of parliament.
Former Transport Minister Mohamed Mansour resigned in October over a train crash south of Cairo which killed 18 people
(Writing by Yasmine Saleh)