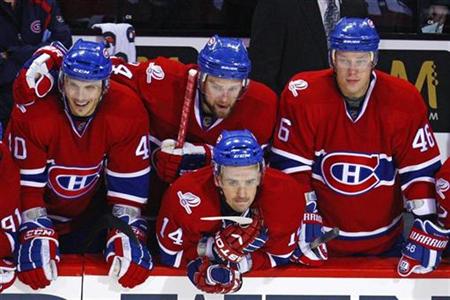 TORONTO (Reuters) - The Montreal Canadiens, winners of a record 24 Stanley Cups, are considered the greatest hockey team in history, according to nearly half of Canadians surveyed in a poll released on Tuesday.
Forty-seven percent of those surveyed by Ipsos Reid November 24-26 agreed Montreal's National Hockey League franchise, which will celebrate its 100th anniversary this week, is the greatest among the league's 30 teams.
A total of 33 percent of respondents viewed the Montreal Canadiens as "Canada's national hockey team" compared with 25 percent who felt the rival Toronto Maple Leafs deserved the distinction as the country's national team.
Canada's other hockey teams -- the Ottawa Senators, Vancouver Canucks, Calgary Flames and Edmonton Oilers -- did not draw more than 5 percent each in that category.
The poll also said 65 percent of the respondents felt the Montreal Canadiens are to hockey what the New York Yankees, winners of 27 World Series championships, are to baseball.
"To a large number of Canadians, hockey is Canada and the Montreal Canadiens are hockey's greatest success story," said Andrew Cohen, president of the Historica-Dominion Institute.
Ipsos Reid conducted the poll of 1,000 Canadians for the Historica-Dominion Institute, which is dedicated to promoting Canadian history.
(Reporting by Frank Pingue; editing by Rob Wilson)