« back to Movies
Met Summer Encore: Rigoletto
Release Date: None
Genres: Program
Cast: Piotr Beczala, Zeljko Lucic, Diana Damrau
Directors: Michael Mayer
Distributor: NCM Fathom
Michael Mayer's acclaimed production, the talk of the opera world when it premiered in 2013, sets the action of Verdi's masterpiece in 1960 Las Vegas-a neon-lit world ruled by money and ruthless, powerful men. In this bold new vision (featured on 60 Minutes), Piotr Beczala is the Duke, a popular entertainer and casino owner. Željko Lu?i? sings Rigoletto, a comedian and the Duke's sidekick, and Diana Damrau is Rigoletto's innocent daughter, Gilda. When she is seduced by the Duke, Rigoletto sets out on a tragic course of murderous revenge.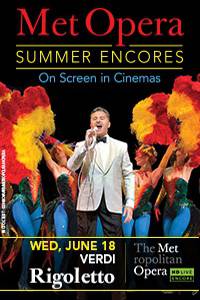 Show Times / Buy Tickets
There are no current showings for Met Summer Encore: Rigoletto in this area.