« back to Movies
Words and Pictures
Release Date: None
Genres: Drama
Cast: Clive Owen, Juliette Binoche
Directors: Fred Schepisi
Official Site: http://wordsandpicturesthemovie.com/
Distributor: Roadside Attractions
Prep school English teacher Jack Marcus laments his students' obsession with social media and good grades rather than engaging with the power of the written word. A one-time literary star, Jack has not published in years filling his time with drink versus the art of language. He meets his match in Dina Delsanto - a painter and new teacher on campus, who was once celebrated for her art. The two flirt and provoke each other with equal relish.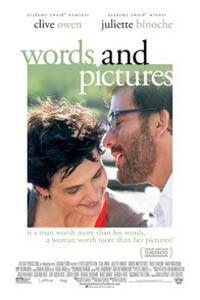 Show Times / Buy Tickets
There are no current showings for Words and Pictures in this area.