« back to Movies
The Protector 2 (Tom Yum Goong 2) (Kumki Veeran)
Release Date: None
Genres: Action/Adventure
Cast: Tony Jaa, RZA, Mum Jokmok, Marrese Crump, Jija Yanin Wismitanan, Ratha Pho-ngam, Kazu Patric Tang, Kalp Hongratanaporn, David Ismalone
Directors: Prachya Pinkaew
Official Site: http://www.magnetreleasing.com/protector2/
Distributor: Magnolia Pictures
Boss Suchart is the influential owner of a major elephant camp. When he was murdered in his own home all evidence points to Kham, who was present at the crime scene and was seen with the victim the moment before he died. Kham is forced to run as the police launch a pursuit. Meanwhile, the twin nieces of Boss Suchart are out for revenge. But luck is on Kham's side when he runs into Sergeant Mark, an Interpol agent sent to Thailand on a secret mission. As Kham is hunted by several parties, he's also desperately searching for Khon, his elephant, whose disappearance is involved with Boss Suchart's death.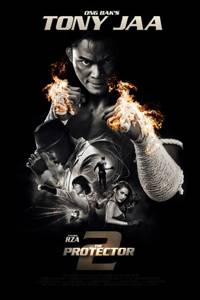 Show Times / Buy Tickets
There are no current showings for The Protector 2 (Tom Yum Goong 2) (Kumki Veeran) in this area.