« back to Movies
Gunday
Release Date: None
Genres: Action/Adventure, Romance
Cast: Ranveer Singh, Arjun Kapoor, Irrfan Khan, Priyanka Chopra, Sushant Singh
Directors: Ali Abbas Zafar
Official Site: http://www.yashrajfilms.com/
Distributor: Yash Raj Films
Based in Calcutta during its most unsettled times in the '70's, the film deals with the inseparable life of Bikram and Bala. The story of two boys, boys who became refugees. Refugees who became gun couriers. Gun couriers who became coal bandits, Coal bandits who became Calcutta's most loved, most celebrated, most reckless, most fearless, and most powerful! A story of two happy-go-lucky renegades who came to be known as... GUNDAY!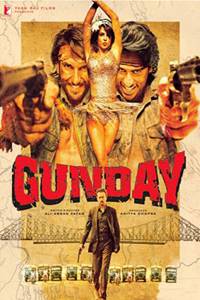 Show Times / Buy Tickets
There are no current showings for Gunday in this area.