« back to Movies
The Lunchbox (Dabba)
Release Date: None
Genres: Romance, Drama
Cast: Irrfan Khan, Nimrat Kaur, Denzil Smith, Bharati Achrekar, Nawazuddin Siddiqui, Nakul Vaid, Yashvi Puneet Nagar, Lillete Dubey
Directors: Ritesh Batra
Official Site: http://www.cinemosaic.net/films/dabba.html
Distributor: Sony Pictures Classics
Saajan, a Mumbai office worker nearing retirement, is delivered the wrong lunch by a dabbawala. Young housewife Ila had intended it for her emotionally indifferent husband. To Saajan's surprise, the food is a vast improvement on his usual meal.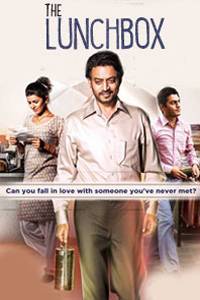 Show Times / Buy Tickets
There are no current showings for The Lunchbox (Dabba) in this area.