« back to Movies
Bolshoi Ballet: Spartacus
Release Date: None
Genres: Program, Musical
Cast: Denis Savin, Anna Nikulina, Alexander Volchkov, Mikhail Lobukhin, Maria Allash
Directors: Yuri Grigorovich
Official Site: http://www.emergingpictures.com/ballet/
Distributor: Emerging Pictures
The Bolshoi's grandiose epic Spartacus recounts the story of a Roman slave's fight for freedom. With its famous Khachaturian score, since the 1960s it has been considered one of the greatest ballets in the Bolshoi repertoire. The choreography by Yuri Grigorovich fills the Bolshoi stage with dynamic scenes of tension and conflict, and gives full expression to the virility and strength for which Russia's male dancers are renowned.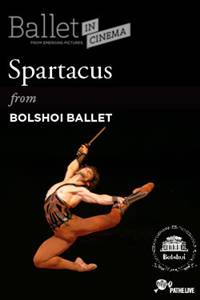 Show Times / Buy Tickets
There are no current showings for Bolshoi Ballet: Spartacus in this area.