« back to Movies
Casablanca (1942)
Release Date: None
Genres: Drama, Romance
Cast: Humphery Bogart, Ingrid Bergman, Paul Henried, Claude Rains, Conrad Veidt
Directors: Michael Curtiz
Distributor: Warner Bros. Pictures
Fiftieth anniversary print (1992) of classic World War II story, starring Humphrey Bogart, Ingrid Bergman, Paul Henreid, Claude Rains et al, looks terrific in glorious black and white. A half century later, it still is a sublimely romantic, soul-satisfying experience.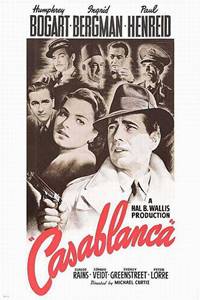 Show Times / Buy Tickets
There are no current showings for Casablanca (1942) in this area.