« back to Movies
My Little Pony: Equestria Girls
Release Date: None
Genres: Animation, Family
Official Site: http://www.MLPEG.com
Distributor: Screenvision
This film is a brand new full-length feature introducing an exciting new dimension to the incredibly popular My Little Pony brand. When a crown is stolen from the Crystal Empire, Twilight Sparkle pursues the thief into an alternate world where she transforms into a teenage girl who must survive her biggest challenge yet...high school. With help from her new friends who remind her of Ponyville's Applejack, Rarity, Rainbow Dash, Pinkie Pie, and Fluttershy, she embarks upon a quest to find the crown and change the destiny of these two parallel worlds.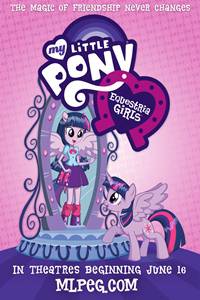 Show Times / Buy Tickets
There are no current showings for My Little Pony: Equestria Girls in this area.