« back to Movies
20 Feet from Stardom
Release Date: None
Genres: Documentary
Cast: Darlene Love, Merry Clayton, Lisa Fischer, Judith Hill, Tata Vega, Stevie Wonder, Mick Jagger, Sting, Bruce Springsteen, Bette Midler
Directors: Morgan Neville
Official Site: http://twentyfeetfromstardom.com/
Distributor: Radius-TWC
The untold true story of the backup singers behind some of the greatest musical legends of the 21st century. Triumphant and heartbreaking in equal measure, the film is both a tribute to the unsung voices who brought shape and style to popular music and a reflection on the conflicts, sacrifices and rewards of a career spent harmonizing with others.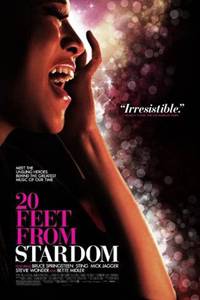 Show Times / Buy Tickets
There are no current showings for 20 Feet from Stardom in this area.