« back to Movies
One Life
Release Date: None
Genres: Documentary
Cast: Daniel Craig
Directors: Michael Gunton, Martha Holmes
Official Site: http://www.one-life.com/
Distributor: Screen Vision
Daniel Craig narrates this feature-length BBC wildlife documentary celebrating the diversity and tenacity of life on earth. Edited together from some 10,000 hours of footage from the BBC's natural history archives, the film focuses on the cyclical journey taken by all living things, from their own birth to the moment they deliver youngsters of their own and the next generation is born.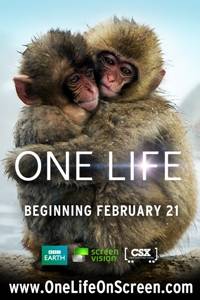 Show Times / Buy Tickets
There are no current showings for One Life in this area.