« back to Movies
Turbo 3D
Release Date: July 17, 2013
Genres: Animation
Cast: Ryan Reynolds, Paul Giamatti, Ken Jeong, Maya Rudolph, Ben Schwartz, Snoop Dogg, Samuel L. Jackson
Directors: David Soren
Official Site: http://www.turbomovie.com
Distributor: DreamWorks Animation
A high-velocity 3D comedy about an underdog snail who kicks into overdrive when he miraculously attains the power of super-speed. But after making fast friends with a crew of streetwise, tricked-out es-car-goes, Turbo learns that no one succeeds on their own. So he puts his heart and shell on the line to help his pals achieve their dreams, before Turbo-charging his own impossible dream: winning the Indy 500.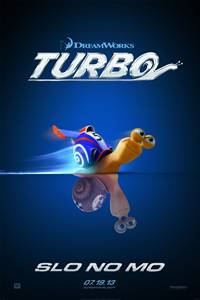 Show Times / Buy Tickets
There are no current showings for Turbo 3D in this area.