« back to Movies
On the Road
Release Date: None
Genres: Action/Adventure, Drama
Cast: Garrett Hedlund, Sam Riley, Kristen Stewart, Amy Adams, Tom Sturridge, Alice Braga, Elizabeth Moss, Danny Morgan, Kirsten Dunst, Viggo Mortensen
Directors: Walter Salles
Official Site: http://themadones.us/
Distributor: IFC Films/Sundance Selects
The life of young writer Sal Paradise is shaken and ultimately redefined by the arrival of Dean Moriarty, a free-spirited, fearless, fast talking Westerner and his girl, Marylou. Traveling cross-country, Sal and Dean venture out on a personal quest for freedom from the conformity and conservatism engulfing them in search of the unknown, themselves, and the pursuit of "it" -- the pure essence of experience. Seeking unchartered terrain and the last American frontier, the duo encounter an eclectic mix of men and women - each impacting their journey indelibly.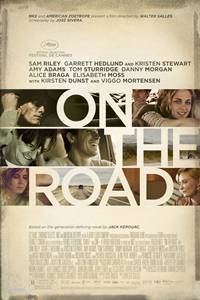 Show Times / Buy Tickets
There are no current showings for On the Road in this area.